Breaking glass ceilings
Critical Friend Partnership is an exclusive consultancy service for the Insurance sector. I worked closely with Richard to bring the website to life with video, and give the business the best exposure through strong technical SEO decisions.
within 6 months
📈 Top SEO
for branded search

Rufus provided a clear process to follow, and helped push both the project and I forward. We got the website up and running within 3 weeks, and it's exceeded my expectations.
Richard Pitt
Critical Friend Partnership
Deep Video Integrations
Given we were starting from scratch a key consideration for Richard was to create a very strong technical base from which to grow from. I needed to make sure he starting to feature on the front page of Google for his branded term.
I went deep with the SEO on this website, making sure it loaded as quickly as a website can – it's built with the Gatsby framework and hosted on Netlify.
Video was our way peaking our audience interest for the page content, large video backgrounds were used for every page.
Testimonials were critical in showcasing the effectiveness of their offering.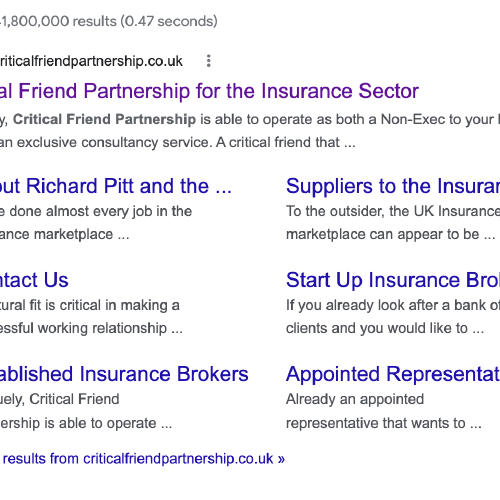 Behind the fancy facade, I also worked on integrating the website with key digital marketing tools such as: